Star Trek Enterprise.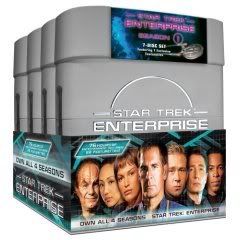 I bought & watched the entire 4 seasons of Enterprise. I had seen the show before when it ran on tv but seeing it again made me realize how much I really liked the show and how much I miss Star Trek.
Two artists I been listening to alot lately.
http://myspace.com/rookieoftheyear
Rookie Of The Year reminds me of what The Juliana Theory used to sound like.
Powered by
iSOUND.COM
Clair De Lune has an amazing sound, reminds me of "at the drive in"
American Idol
I love this show. It's like watching some terrible car crash. You know you probably should turn away but you cant. I laughed so hard last night when this girl freaked out.
Hablas Espanol
I have been trying to practice my spanish. I used to be really fluent but its been a long time. In late March Matt and I will be in Europe. We plan to spend a few days in Spain and I would really like to feel comfortable speaking spanish again. I have been watching lots of Univision, Canal 52, and listening to ABC news in spanish. If there are any fluent spanish speakers out there that would like to practice with me over lunch or coffee please let me know. I could use the practice.
The Stranger Blog(slog)
Probably one of the most entertaining blogs out there.
http://www.thestranger.com/blog/