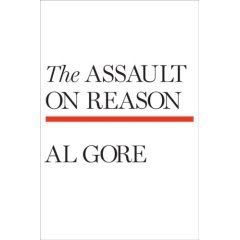 Al Gore will be at the Seattle Town Hall to discuss his new book "Assault on Reason"
Here is the Description from the Townhall Website
Description
Al Gore's fiercely-argued new book, The Assault on Reason, is an indictment of current policy making–especially the President's use of power and his handling of the war. But in Gore's view, the real problems lie deeper. Gore argues that the marketplace of reasoned debate on which our country was founded is being endangered by a variety of things: the use of fear and the misuse of faith, the distractions of our entertainment culture, and the concentration of power in the national media and the executive branch. He believes the American people must rise to the challenge of reinvigorating self-government and restoring the rule of reason. Presented by the Town Hall Center for Civic Life with Elliott Bay Book Company. Book signing of Assault on Reason and/or the children's book An Inconvenient Truth: The Crisis of Global Warming only, follows Gore's talk.
Tickets are only 5 Dollars
http://www.brownpapertickets.com/