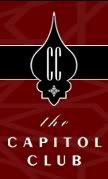 From the moment I walked in and heard the Postal Service playing I really wanted to like this place.
It was my friend Shawn's Bday and he made reservations for 15 to 20 people. We showed up and the restaurant claimed that Shawn never made the reservations. Then they said the reservations were for the night before and we had messed up. I am pretty sure my friend knows his bday. The restaurant was absolutely empty so you would think they would be happy to have a huge group of people show up, but they were not.
They acted all bothered that had to deal with a big crowd and they started telling us how difficult it would be and how there would be a minimum of $500 for a group of 15. Then when it was time to order they were out of most items on the menu.
I ended up having the panini which turned out to be really good. So from what I can tell the food is decent but I was really disappointed with the service.
What has your experience been at the capitol club?