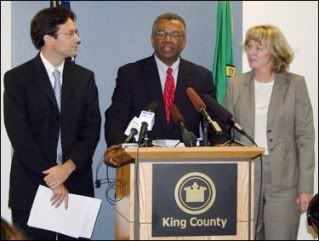 (from King 5)
Today Ron Sims unveiled his 20 million dollar plan for a "Green infrastructure" in King County.
"Simply put, green infrastructure is the interconnected network of green spaces, the stream valleys, wetlands, parks, natural lands, open spaces and trails...." "no matter where you are in King County, you're not far away from a guaranteed natural experience forever." (Ron Sims)
Plan Includes
$2.5 million for a proposed Eastside rail trail

$1.3 million to buy 24 acres around Discovery Park

$750,000 for the Bellevue greenways and opens spaces

$400,000 to preserve Cam Kilworth in Federal Way

$300,000 to buy the Bass/Beaver/Dandy lakes complex.